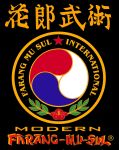 ---
Home, News, Philosophy, Rank, Articles, FAQ's, Events, Biography, I.D.S.C., Store-FMS Products, Images, Links, Video Clips, FMS Programs, Long Distance Training, Official FMS Black Belts, Warrior Quest Championship
---
FREQUENTLY ASKED QUESTIONS
WHAT IS DE ALBA SYSTEM MODERN FARANG MU SUL® ?
De Alba System Modern Farang Mu Sul ® is an evolved art derived from several Martial Arts that Grand Master De Alba has studied. It is based mainly on the original Korean fighting systems said to have been delveloped in Korea during the Three Kingdoms period. These arts are now know as: Hwa Rang Do, Kuk Sool Won, Hap Ki Do, Sun Mu Won, Do Hap Sool, and Tae Kwon Do among others. Although derived from "original Korean systems", it has also kept up with the needs of modern times, and as such has thoroughly embraced and incorporated training methods and techniques from virtually any source as long as they fit the criteria of the De Alba System Modern Farang Mu Sul ® creed. This means that changes are not made simply for the sake of change, but rather for improvement. By maintaining an open mind and using a quite modern and progressive approach, a much more functional and effective system will result. In this way, the valuable traditions are not only preserved and expanded, but actually a higher version of the original principles are then carefully developed.
The De Alba System Modern Farang Mu Sul ® is more than a mere "martial art". It is a true warrior's fighting art, and a warrior's philosophy of living and dying. It is a way of appreciating beauty, embracing the good and bad episodes of life and learning. It is deeply rooted in the belief of unbreakable family bonds, loyalty, patriotism, true friendship, courage and compassion for all living things and growing from both. However it is first and foremost a true warrior's complete fighting system incorporating combative boxing, kickboxing, pressure point attacks, grappling, trapping, throws, chokes, joint breaks, CQC (Close Quarter Combat), ancient/traditional and modern weapons (conventional-unconventional weapons) such as modern knife combat, stick fighting, firearms and more into an exhaustive system of fighting.
Grandmaster De Alba has integrated these varied components into an easily learned foundational structure that assures mastery of each component and integrates all of these into a seamless system of modern combat. It retains the most important traditional techniques and warrior philosophy yet goes beyond any restrictions set by it as related to the individual, here in these modern times. It is a dynamic art that is extremely comprehensive yet at the same time amazingly simple. The reason for this is, the philosophy and actual techniques are very conceptual in nature. Once understood from the most basic stand point, it becomes very clear how the art functions and can be capable of so many things. A natural "flow" is developed, that allows the practitioner to use all tools needed in any fighting range, in a natural, reflexive manner. More importantly is that one of the main points of the art is freedom of expression. This means that the art is not this ridged "box" that everyone must fit into in order to understand and use the art. Rather, it is more fluid like "water" that can be poured into any container or any shape, (this is the individual) and the art will conform to that shape.
What we are trying to say is that everyone has certain natural strengths and weakness. The art will afford the student working knowledge in all aspects of martial arts training and re-enforce and develop those natural strengths as pillars of steel, as well as address and round out the weak areas so that the person no longer has a weak area, just strong and even stronger areas. The De Alba System Modern Farang Mu Sul ® covers all areas of combat as related to a warriors art. No stone is left unturned in regards to the self defense capabilities as well as the more far reaching attitude of this "balanced philosophy", meaning that one appreciates all things and our interdependence with our fellow man. By the same token, if one learns to hurt, cause pain and kill, it is equally important to learn how NOT to hurt, to have control, compassion and to heal.
WHAT DOES MODERN FARANG MU SUL® TRANSLATE TO MEAN?
Modern Farang Mu Sul®
Modern - Progressive, Cutting Edge, Up to date
Farang - Elite Ancient Korean Warrior Group
Mu Sul - Fighting Art, Martial Art
Translations:
English: The Fighting Art Of The Modern Warrior
Spainsh: El Arte Combativa Del Guerrero Moderno
German: Die Kämpf Kunst Des Modernen Kriegers
Português: A Arte de Combate do Guerreiro Moderno
Polish: Walka Sztuki Wspólczesnego *Warrior*
Iltalian: L'Arte Del Combattimento Del Guerriero Moderno
French: L'Art Battant Du Guerrier Moderne
Dutch: De Vechtende Kunst Van De Moderne Strijder
Japanese: kokon musha bujutsu
IS THERE A PARTICULAR AREA OF TRAINING FOCUSED ON IN THIS ART?
The primary focus of the art is SELF DEFENSE - SELF PROTECTION. From this perspective, all other attributes will come, such as better health, confidence, flexibility, coordination, humility, etc. By focusing on Self Defense - Self Protection, this aspect then becomes very basic and automatic. You never have to come back to it because it is always present in your training. Should you ever need to use your Self Defense - Self Protection skills, they will most likely be there for you because you have made them instinctive reflexes, (rather than an aspect of your training that you only worked on occasionally). You can not put a value on your health and well being, therefore healthy preparation is the key.
WHAT IS TRAINING LIKE?
Since the art is so comprehensive, any given lesson will include training in empty hand combatives (ie: kick boxing, grappling, trapping, joint locks, etc.) and or traditional and modern weapon skills (ie: knife, staff or firearms). There is a 4 point approach to the training. What this means is that the art is constantly covering 4 methods of teaching. They are:
01- Basics - This includes all fundamental techniques such as stances, blocks, punches, kicks, etc. Also included in this category are all types of self defense sets. Another part of training that is considered as basics are the often overlooked mental aspects of training. One must have the proper frame of mind in order to be most effective in any self defense situation. Therefore many mental training skills are emphasized.
02- Forms - Forms training teaches the very beautiful empty hand and weapons sets, and the many applications of the movements. More importantly, Forms practice will develop fluidity of movement in each student. They will emphasize power, speed, timing, balance, lines, and angles. Grace and many elements not necessarily viewed as fighting tactics as well as many conceptual movements are contained in Forms training, that one will use over and over.
03- Drills - Training with the many drills will help to develop conditioned reflexes. By covering so many different types of scenarios, the body will begin to move freely, and the thought process is minimized. The goal is to learn to apply the basic techniques, done with correct form and power, in the appropriate spontaneous moment.
04- Sparring - Lastly, we have Sparring. Not to be confused with fighting. Fighting is all about surviving and not necessarily showing compassion for the opponent. Sparring sessions are mutual learning sessions that are to be done with safety and little by little, less and less co-operation from your partner. As one gets more comfortable, then one can really step up the intensity and pace. Many different types of sparring are practiced, so as to cover as many self defense scenarios as possible.
The combination of these 4 points of training will help to develop a very well rounded and effective fighter.
There are also several specialized courses designed for the specific needs of various groups, such as peace officers, executive protection, women's self defense, street self defense, etc.

HOW LONG DOES IT TAKE TO GET A BLACK BELT?
What's the rush? Anything worthy and of value, costs, and takes time. OK, the average time for an active student to reach Black Belt is around 5 - 10 years. In Modern Farang Mu Sul® when one reaches the Black Belt level, you are also awarded the very unique and rare Black Sash. But don't get too hung up on rank. Keep it all in perspective. As much as you dedicate many years of hard work, blood, sweat and tears to earn this special rank, and you do, it is not the reservoir of your knowledge. You will always need to "walk the walk". Also, remember, you don't need a Black Belt to defend yourself, be attacked or just to improve the quality of your life. Just do it! Now, goals are very important, but more important is to appreciate and enjoy the journey.
ARE THERE SPECIAL COURSES OFFERED FOR LAW ENFORCEMENT, MILITARY OR SECURITY PERSONNEL?
Absolutely ! This is an area of particular specialty and very much in demand lately. The military and LEO community have benefited immensely from our training methods and techniques. We have several specialized programs that tailor to various "use of force" guidelines.
HOW CAN I FIND A QUALIFIED DE ALBA SYSTEM MODERN FARANG MU SUL ® INSTRUCTOR / SCHOOL IN MY AREA?
The is certainly a dilemma. Dispite efforts to expose and spread this art worldwide, finding a qualified instructor or school can be difficult and quite a challenge. This is something we are going to great lengths to change with our long distance - home study program (LDP). At this moment we have representatives around the USA, Europe, Mexico and South America. The best way to locate a school or club is by contacting us at:
Phone: 415-661-9657
E-mail: mdealba@comcast.net
Ground Mail: De Alba System - Modern Farang Mu Sul® Intl.
PO Box 21
Fulton, CA 95439
IN THE ABSENCE OF A QUALIFIED DE ALBA SYSTEM MODERN FARANG MU SUL ® INSTRUCTOR / SCHOOL IN MY AREA, WHAT OTHER MEANS OF TRAINING ARE AVAILABLE?
To be perfectly honest, practice with the best instructor in you area, regardless of style. It is better to train in good martial arts, than not to. All arts have something to offer. Finding a good, reliable and committed teacher is the key. Obviously, this art is very comprehensive and consecuently quite rewarding (Unfortunatly, not as widely available as other arts). At this moment, we now have a special
LONG DISTANCE TRAINING PROGRAM
(LDP)
. For this we offer numerous De Alba System training aids, such as Instructional Video Tapes, Student Training Manuals, Seminars and Rank Certification Programs. We have had great success with this program, developing Modern Farang Mu Sul® Instructors in Spokane, Wa. , New York and Portugal for example. Please contact us to find out more details.
HOW CAN I FIND OUT ABOUT WORKSHOPS OR SEMINARS IN MY AREA, AND/OR HOW CAN I SET ONE UP?
Contact us to be placed on our mailing list or for a seminar sponsor info packet.  
De Alba System - Modern Farang Mu Sul® Intl.
PO Box 21
Fulton, CA 95439
---
Home, News, Philosophy, Rank, Articles, FAQ's, Events, Biography, I.D.S.C., Store-FMS Products, Images, Links, Video Clips, FMS Programs, Long Distance Training, Official FMS Black Belts, Warrior Quest Championship
---
We hope you enjoy our web site. Come back and see the various changes coming to this site. Please feel free to email Grand Master De Alba directly with your comments!

---
DSYSTEM.com web service (the "Service") contains material derived in whole or in part from the teachings of Grand Master Michael De Alba, the International De Alba System Confederation™, Modern Farang Mu Sul ® and their students, instructors, and associates. International copyright, trademark and other intellectual property laws protect these materials. Users, guests and visitors may not modify, copy, reproduce, republish, upload, post, transmit or distribute in any way or in any form, any material from the Service including code and software. Users, visitors and guests may download material from the Service for personal, non-commercial use only, provided all copyright and other proprietary notices are clearly visible and intact. Commercial use, reference or linkage to the Service site, without the express written permission, of Michael De Alba or his assigns, by registered letter, is prohibited.Copyright 2001® DeAlba Productions
Modern Farang Mu Sul ®
Phone: 415-661-9657
PO BOX 21
Fulton, CA
95439
Webmaster :Stuart McCalla